KS-plus Project: First Aid-Courses
First Aid-Course
s teach how to save lives. They are especially beneficial where rescue services are scarce. The
Kirpal Sagar Academy
therefore planned to include first aid courses in its program in 2017.
First Aid-Courses, the Challenge
Kirpal Sagar is in an agricultural area. The roads are often in poor condition, many are on foot, by bike, or on mopeds. Cows cross the way, donkey and buffalo carts are still common. Tractors and trucks with oversized loads are also see qite often. Much of this takes place at night, unlit and not seldom with fatal consequences. Working in the fields is also dangerous. On the one hand, field workers are often bitten by snakes; on the other hand, accidents involving poorly secured machines are frequent. Simple immediate measures such as haemostasis and the right emergency call can save lives here. First aid courses provide the necessary knowledge, because unlike here in Central Europe, there are no aid organisations in India that train paramedics and teach first aid on a broad basis.
The Solution: First Aid-Courses at Schools
It was planned to start in 2017 with the students of the Medical Branch of the Upper School. At the starting event in October 2017, 250 students from grades 9 to 12 took part instead of the expected 20 students – a challenge for the KS-Plus teaching team of one doctor, one teacher and two school paramedics, which quickly expanded to include a further teacher and a midwife. Two teachers from the Academy were released for the course by the director. They were instructed to conduct further courses in the future. During the practical exercises they gained their first experience as trainers, also for future first aid courses.
How Can You Help?
Further events are planned, we had already taken two training dummies to India in October. Currently, KS-plus is collecting for more training dummies for resuscitation and training material for first aid courses. Step by step we want to gather 20 training dummies so that first aid can be taught to all students at the Academy in the long run.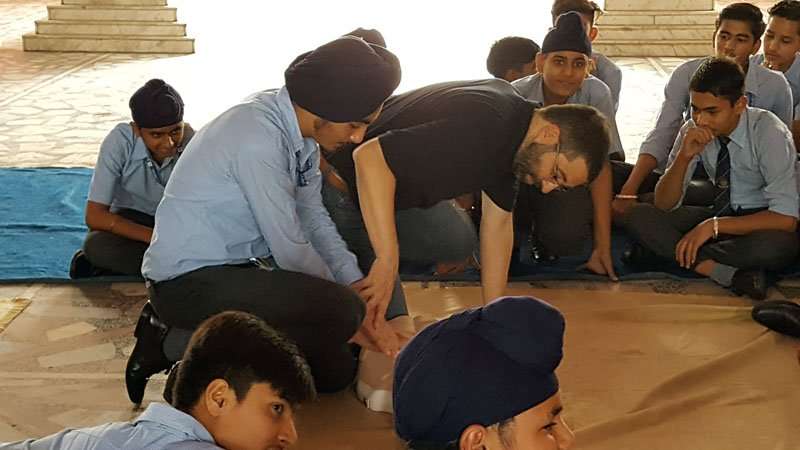 KS-plus uses betterplace.org, a non-profit organisation from Berlin, for online donations. This way we can ensure the protection of your personal data. You will be redirected to betterplace, which offers secure bank connections (PayPal, bank transfer with Giropay or Sofortüberweisung, credit card and much more). Why all this? It keeps the cost of online donations low and allows us to use more of your donation locally.